SEO For Real Estate Business Website
If you want to sell more homes and properties, it becomes inevitable to invest in the best Real Estate SEO strategy. We at CA Digital can help you get closer to your dream as we focus on other business areas together! As we know, the right SEO strategy will make your business take off. Don't sit back and watch competitors invest in their marketing plan; we can help you get closer to that dream!
With so many real estate agencies out there, it's important to have a strong marketing strategy. The best way to get more clients for your real estate agent is by having an effective SEO strategy. It will help improve rankings for both clients and Google, making it easier to find what they're looking for on their own time! With the right SEO strategy, you can increase your organic search traffic by turning yourself into an authoritative real estate website.
Now, the search engine optimization process isn't easy, so you need professional Real Estate SEO Experts like us. There's so much more than just writing good content and making sure your site loads quickly – there are intricate details that can make all the difference in rankings! The real estate market is competitive, which means our Real Estate SEO Experts will help navigate through discriminatory housing regulations and NAR advertising policies.
Learn why top agents invest in Real Estate Search Engine Optimization:
Get a better ranking on the search engines
Website ranking above the competitors
Get more organic traffic from your target audience
Increase the number of qualified organic leads
Guaranteed increase in inquiries and sales
All of this will open opportunities for developing lasting relationships with potential home buyers and sellers and increase visibility on search engines like Google!
Our Real Estate SEO Services
Competitive Intelligence
04
Skyrocket Rankings And Traffic With Our Real Estate SEO Services
We specialize in search engine optimization, and our comprehensive service will help you rank higher on SERPs. The expert team at CA Digital focus heavily on content creation and backlink building for increased visibility online – all of this drives more traffic to your website! We offer an array of services that will help boost your organic traffic and profitability.
Our Recipe To Optimize
Our Recipe To Optimize Your Real Estate Website For Google
We follow a specific approach when handling SEO to ensure that your website is optimized for search engines. The six steps below summarize our SEO For Real Estate processes and help you get started on the right track to rank higher in Google's results!
Step 1: Conducting Competitor Analysis
Wondering why you seem to be falling behind your competition? Engaging the best real estate SEO team might help get that competitive edge back. Our Real Estate SEO Experts will analyze all of our competitor's ways, including looking at their keywords and content quality- so we can make sure yours are better than theirs!
Step 2: Technical SEO Audit
Technical SEO audits to ensure that your website is optimized for the best user experiences. By evaluating indexing, site speeds, and page loading times, we can determine which aspects need improvement to provide an excellent browsing environment without frustrating or slowing down visitors with technical glitches!
Step 3: Keyword Research
You can't rank high without using the right keywords. That's why we run comprehensive keyword research to make sure your pages will appear when people search on Google and other websites related to what they're looking for!
Step 4: Optimizing Your Google My Business Listing
Google My Business listings are a crucial aspect of local SEO. They allow interested clients to find your office and walk right in, so you can provide them with all the information they need! Your business deserves to be found by customers on top of Google Search and Maps. With our help, you can optimize the details for a great ranking with target keywords that will show up in front-of-many searches!
Step 5: Content Optimization
Intrigued? The content you create can have a huge impact on how many people stumble upon your web pages. Optimize it for search engines with SEO and enjoy increasing traffic by 20% or more! With our optimization services, you'll have more powerful keywords in your page titles and descriptions that rank higher on search engines. Your meta tags will be correctly formatted for optimal listing appearance too!
Step 6: Authority Link Building
Building a strong brand is the key to success in this industry, and if you want people to trust your site, link building should be at the top of the list. With our approach, you can ensure that more sites will see your content. It is because manual blogger outreach means contacting credible and influential bloggers in their field of work, which gives them power over other readers interested enough to share it online!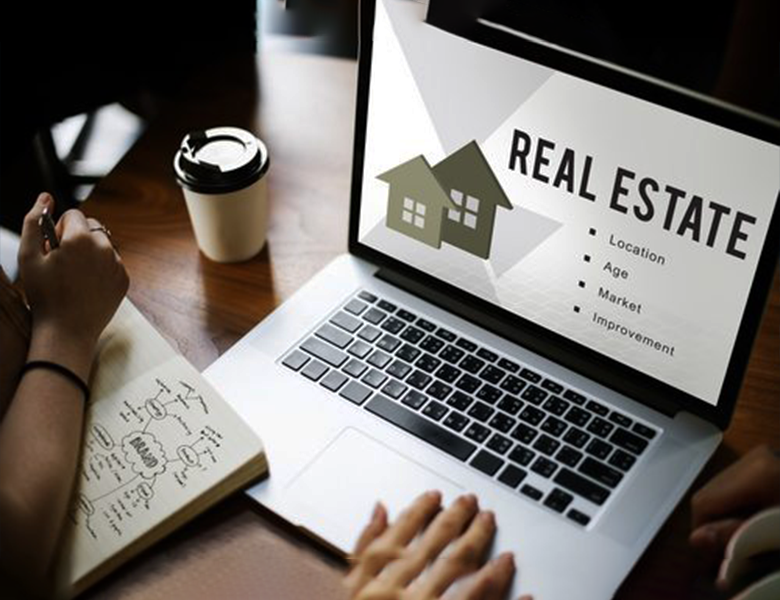 Real Estate Businesses Need SEO
There are a lot of real estate businesses out there, all fighting for the same clients. So how do you make your real estate business stand out from the crowd? One way is to invest in SEO For Realtors Agents. Investing in real estate SEO can be a great way to get more visibility for your business and attract more clients.
Competitor Intelligence Is Crucial For Real Estate SEO
Knowing the strengths and weaknesses of your competitors is an important part of improving yourself as a business. It can help you rank higher on search engines, attracting more organic traffic from people interested in what they have to offer!
Competitive analysis is one of the most important aspects to consider when looking at your competition. You need a good understanding of what they're up against and how you can beat them at their own game and take away some market share from those competitors!
Keyword Research Is Key For Real Estate SEO Success
Keywords are the cornerstone of SEO. They determine what content you should be optimizing and how Google ranks it in their search engine results pages (SERPs).
Keyword research is an important part of running an effective real estate business. It allows you to find keywords that your audience uses and will likely be interested in, which means they're more likely to click on the ads leading them straight back towards buying or renting the property from you!
Keyword research helps you improve the quality and quantity of your content and guides how to optimize it for search engines.
Improving The User Experience Highly Contributes To Real Estate SEO
To enhance the user experience on your real estate website, create engaging content and ensure it is mobile-friendly. The more time people spend with you online or in-person, the better chance they will buy from you!
Studies have shown that great user experiences can increase your site's ranking in search engine results. It is because happy users send positive signals, who show the world they trust you as an organization to provide them with high-quality content and services online!
Your user experience will significantly impact how many people interact with your site and what they do while working there. You can increase traffic by ensuring that the information is easy to understand, which means it's more likely someone will click through to another page or go back in their history of pages visited, resulting in increased sales!
On-Page Optimization: The Hidden Key To Effective Real Estate SEO
On-page SEO factors include page titles, content body, and tags. Internal links are also an important part of the equation for ranking well on Google for certain keywords in particular industries or vertical markets.
Optimizing these SEO elements is necessary for your website and page ranking. The optimization will allow you to understand the search terms used by those who visit and ensure their intent has been met with results from our site!
On-page SEO cannot be underestimated because it allows search engines to better understand your website and its content while also identifying how relevant you are.
Website Content Is A Key Component Of Real Estate SEO
Content is king in SEO and will give you an edge over other realtors. The optimization of your website content makes it possible for search engines (bots/crawlers) to understand the relevance and popularity of a site.
Create engaging website content with useful information for potential customers, which they can easily find on your site by using keywords from their search queries.
The key to getting your site ranked high in search engine rankings is great content. It's not enough for there just to be a lot of clicks on the page; you need really good written words that will drive up CTR rates and get people clicking away from all those other competitors who don't have such awesomely-written articles!
You need great content for excellent user experiences and a way to incorporate keywords into your work. Great content can help you build high-quality backlinks that show your site trustworthy and credible. The more authority sites link to yours, the better.
Link Building Enhancing The Effectiveness Of Real Estate SEO
Increase trust and credibility for your brand
01
Get more backlinks for your website
02
Build trustworthy links to your site
03
Get your website to the top of search results
04
Local SEO Optimization
Local SEO Optimization Gets Our Business Found Online By People Near You
It is important to ensure your site stands out with so many websites. The best way of doing this? Local link building! With local SEO, you can manage your business' reputation from the comfort of home. Crediting your local real estate business with accurate citations will improve the search rankings on Google and give you more online visibility. It means that people in their area can learn about all of these great services and products available to them through one source. Local optimization means including on-page and off-page SEO strategies that increase traffic from the most relevant online searches. Google My Business citations and optimization are important for boosting your site's ranking on Google.
Is Struggle Of Real Estate SEO Real?
The big, nationwide companies are the ones that control search engine optimization for real estate. It means it's tough to get ahead in this industry if you're an upstart local brokerage trying to compete with them on their ground!
We Are The Real Estate SEO Expert!
To stand out in today's competitive digital world, you must have a well-optimized website. Paying an expert can help keep your site up to date with the latest technologies and ensure its success as one of the top real estate websites online!
The right SEO company can make all the difference in SEO For Real Estate Websites. But how do you know if they're qualified? It's not enough to just understand search engine optimization; most agencies don't also understand IDX (which will make up 95% or more) as well as other unique aspects like human scanning technology and local listings data rules for instance. It is why looking into hiring someone specializing specifically in these types of services may be best! We at CA Digital do hold a specialty in SEO For Realtors Brokers.
A successful real estate SEO expert also knows traditional organic and local searches. Some of the aspects are in the list below.
Get the most out of your IDX and listings
Get the power of MLS data
Improve conversion rates with better listings
Up-to-date with REALTOR board and MLS rules and regulations
Lead Generation
The sales cycle of real estate
Buyer's and seller's perspectives for marketing effectiveness
Real estate CRM mastery
A mindset of a real estate agent or broker
The formula for success in real estate is simple – you need an expert who can keep up with all of Google's algorithm changes and be technically gifted. If your online marketing partner cannot do this, they're not an SEO specialist!
CA Digital is the only marketing company you'll ever need. We have an extensive history in real estate.
testimonials
What People Say
Incredible!
Ca Digital and their creative content team are doing fantastic work. Each work was done as instructed and delivered on time. The content is well-researched, well-organized, and engaging. It's a pleasure to collaborate with you.
Best work!
Working with CA Digital's digital marketing team was an amazing experience! They have a wide range of tools and expertise to accomplishing digital strategies, including SEO and website design. The best part is that they have a dedicated and responsive team that is open to new ideas! I am truly grateful for their efforts in making our company a success today!
Great Work!​
The team at CA digital use tested strategies to push business to extra mile. The team has incredibly helped me to develop a strong brand strategy to stand unique from other competitors. I really had the pleasure of working with CA Digital.
Exellent!
CA Digital has been my go to for all design needs. The designers at CA Digital are highly knowledgeable to deliver fast and responsive web designs. Our website looks fantastic and performs fantastically because of their knowledge and perseverance.
Incredible!
CA Digital has been my web development team for over a year now, and I can't say enough about how amazing they are. My interaction with the web developer at CA Digital was excellent. They were really helpful to me in my e-commerce development .
Best work!
CA Digital has been a boon for our company. We recently hired them and have had an amazing conversion for our online business. The marketing campaigns are well-optimised and has helped me to achieve maximum results for my business. I wholeheartedly recommend everyone who is looking for a boost their conversions!